*brave*
Name: Sagepaw--> Sageleaf
Gender: female
Age: 6 moons
Appearance: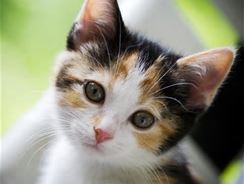 Personality: kind, calm, caring
Clan: riverclan
Rank: medicine cat apprentice please.
Other: Deaf in right ear. She also loves to dream of what her life would be like in the future.
Roleplay Sample: Sagepaw sniffed the plant. 'This is very strange...wait...' She thought. she sniffed her paws. They smelled vile. "Ewwwww! I still have mouse bile on my paws." she said as she lept to the river. She washed her paws once again and sniffed the plant. She sighed in disappointment. It was just a regular weed.